Thousands Attend Gun Rights Rally In Virginia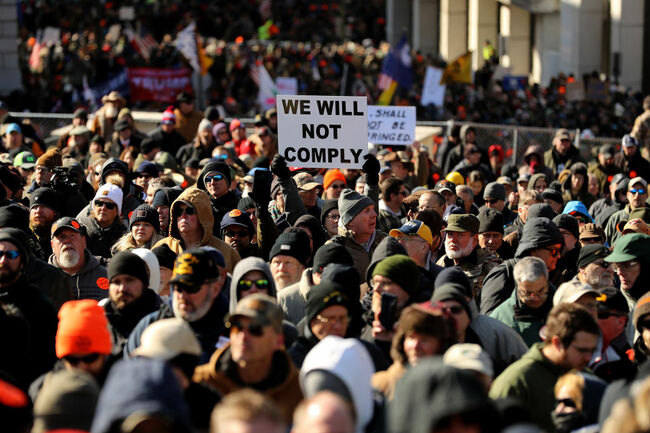 Thousands of protesters gathered in Richmond, VA Monday for a gun rights rally opposing a push for stricter gun laws in the state.
Many protesters carried semiautomatic rifles or stickers that read "Guns save lives". Some passed around a petition looking to recall the state's Democratic Governor Ralph Northam.
The rally proceeded peacefully, despite concerns from Northam and other officials about possible violence.  
Photo: Thousands of gun rights advocates attend a rally organized by The Virginia Citizens Defense League on Capitol Square near the state capital building January 20, 2020 in Richmond, Virginia. During elections last year, Virginia Governor Ralph Northam promised to enact sweeping gun control laws in 2020, including limiting handgun purchase to one per month, banning military-style weapons and silencers, allowing localities to ban guns in public spaces and enacting a 'red flag' law so authorities can temporarily seize weapons from someone deemed a threat. While event organizers have asked supporters to show up un-armed, militias and other extremist groups from across the country plan to attend the rally and show their support for gun rights. (Photo by Chip Somodevilla/Getty Images) The Joe Pags Show
The Joe Pags Show originates from 1200 WOAI in San Antonio and can be heard on affiliate stations around the country and on the iHeartRadio app. Get his official bio, social pages, articles and more online!
Read more